The Original StairSlide
Segments
4-Pack - Most Popular
Single
2-Pack
3-Pack
5-Pack
6-Pack
7-Pack
8-Pack
As seen on:
Non-slip Grip Bottom
Rubber grips for hard or soft surfaces
Fits Your Stairs
Expands to fit different stair heights
Stacks & Stores
Easily stack and store your slides
#ShowYourSlide
Slides in The Wild
Ask away!
Questions & Answers
The Reviews Are In
Kids & Parents LOVE StairSlide
Customer Reviews
95
reviewers would recommend this product
Write a Review
Ask a Question
03/20/2023
John r.

United States
I recommend this product
AWESOME
Amazing! Easy set up and take down. Only complaint is I'm to big to use it! Lol our 3yr old hasn't missed a day of sliding since we got it! If your on the fence about getting this don't be. Build material is excellent and they stay in place really good. We found a xxl memory foam dog bed for the landing works great! You will need something for landing cause this slide can be very fast!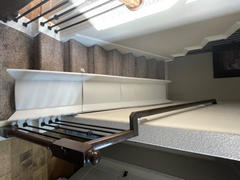 03/15/2023
Brittany

United States
I recommend this product
Love the concept
I do love the concept for our kiddos and they do seem to be made of good quality. But ours unfortunately arrived with a bow in the center of each and does not lay flat as they should. So we haven't felt comfortable using them with our kiddos. Also the landing seems pretty abrupt even with the pad we added. Our oldest even stated "that is utterly terrifying" and refuses to use it. So a little disappointing as I was really excited to receive it for them. Hoping we just got a defective set of 4.
03/04/2023
Beth H.

United States
I recommend this product
Defective panels
The first 4 panels we received were bowed in the middle causing the panels not to fit properly. We called the company and they were super nice and agreed to send 4 new panels. When we received the new slide, it had the same defective material. Not worth the trouble!
03/04/2023
Maria A.

United States
I recommend this product
Best Grandma EVER
Got this for my grand babies (and daughter) since they live in a climate with very long winters. Kids have been sliding nonstop and mom is happy. Great purchese
02/27/2023
Ryan M.

United States
I recommend this product
Fun
Pretty good kids love it did break one piece after a week but my fault I didn't see that the weight specs are different for the soft landing overall pretty pleased
Thank you for the review! So happy your family is enjoying the slides!